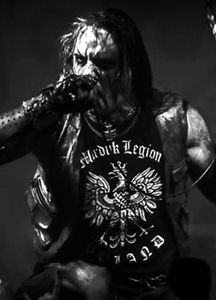 Daniel Rostén – Vocals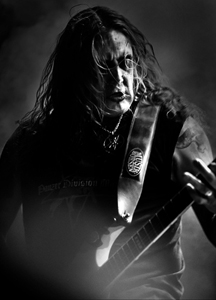 Morgan Håkansson – Guitar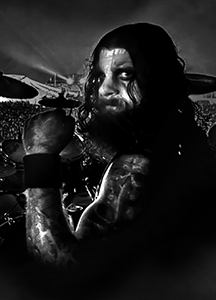 Simon Schilling – Drums
Timeline
1990
– Morgan, intent on creating the most brutal and blasphemous metal act ever, forms Marduk
1991
– The "Fuck Me Jesus" demo is released
– Records but chooses not to release the 7" "Here's No Peace"
– First live appearances, now considered cult shows
1992
– Debut album "Dark Endless" recorded in June and released during the winter solstice
– All through the year Marduk performs on various locations in Sweden, rapidly gaining a following and fan base
1993
– No Fashion rips the band off badly
– Signs a record deal with French label Osmose Productions
– Second full length album "Those of the Unlight" released in October
1994
– The first Marduk gig abroad takes place – Black Metal Nights Festival in Oslo, Norway in April
– Marduk's first European tour, entitled "Sons of Northern Darkness", is carried out during May and June
– Third full-length album "Opus Nocturne" is recorded during autumn and surfaces on record shelves by the year's end
1995
– "Winter War" – European headlining tour in February
– "Fuck Me Jesus" re-released as MCD in April
– First time crossing the Atlantic – June show in Mexico City
– A first visit to The Abyss studio, in order to re-mix "Those of the Unlight"
1996
– Studio change – Marduk enters The Abyss to record "Heaven Shall Burn… When We Are Gathered" in February
– "Heaven Shall Burn…" released in June
– The (at the time) most extensive European tour launched in September
– During the tour, "Glorification" – a MCD with a remix from "Heaven Shall Burn…" plus covers of songs by Bathory, Destruction and Piledriver, is released
1997
– Assailing Europe once more in the spring with the shorter "Legion" tour
– A live album, recorded on the 1996 "Heaven Shall Burn…" tour, entitled "Germania" is released
– Primary support for legendary black metal act Mayhem on their re-union gig in East Germany
– Swedish label Shadow Records releases "Here's No Peace"
– During October and November Marduk immortalizes the much-anticipated successor to "Heaven Shall Burn" – "Nightwing"
1998
– "Nightwing" hits the stores during spring
– Appears on No Mercy Festival the week after the album release, to promote the new record
– Autumn – spearheads the "Black Metal Assault Tour" all through Europe
1999
– Enters the studio once again to record the perpetually pummeling "Panzer Division Marduk"
– Tours Scandinavia, Greece and Japan
– Numerous summer festival appearances, such as Dynamo, with Marduk headlining the Black Stage
– MCD "Obedience" recorded
– Another seven-week headlining tour during fall
2000
– "Obedience" released on own label, Blooddawn Productions
– Joins forces with Deicide and Cannibal Corpse for a shorter spring tour
– Ends cooperation with Osmose Productions
– Returns to Mexico for a two-week tour
– Appears on most big summer festivals, among others Wacken Open Air, With Full Force and Waldrock
– Ten-year anniversary show in hometown Norrköping on Halloween
– Releases the double-disc live album "Infernal Eternal" the same night
– Records seventh Marduk album, "La Grande Danse Macabre", in December
2001
– Visits the studio again for some miscellaneous recordings
– "La Grande Danse Macabre" released on March 5
– Headlines a 31-date European tour
– US tour with Deicide
– Headlines one of the Graspop Metal Meeting stages
– Assembles and prepares the box-set "Blackcrowned"
– Shorter headlining tour, joining forces with heaviest acts in metal on the X-Mass Festivals through Europe
2002
– Forced to cancel headlining US tour due to visa issues
– Box-set released in February
– Fredrik discharged from the ranks
– Emil Dragutinovic drafted as new drummer
– Plays With Full Force festival in Germany and Tuska Open Air in Finland
– Records Marduk's eighth full-length album "World Funeral"
– Main support for Danzig in Europe
– Co-headlines the annual X-Mass Festivals
2003
– "World Funeral" released in February and followed by a 31-date European headlining tour
– August – headlines the Party San Open Air Festival in Germany
– Morgan records material for a planned four-track Marduk EP entitled "Porträtt av Döda Barn" ("Portraits of Dead Children"), a recording that to this day remains unreleased
– During October, Marduk embarks on a South American Tour, covering new ground such as Brazil, Argentina, Chile, Colombia, Costa Rica and a glorious return to Mexico
– In December, vocalist Legion is out of the band
2004
– During January, Morgan records a three-track Marduk demo entitled "Todes Reich" with a drum machine as well as bass and vocals handled by himself
– Vocalist Mortuus joins the band
– The DVD "Funeral Marches and Warsongs" released in February
– Headlines the Motala Metal Festival in Sweden in May – first Mortuus live appearance
– Enters the local Endarker Studio for a pre-production of the upcoming album, known as the "Hastfer Session". Marduk likes the atmosphere in the studio and decides to record the album there.
– B. War is replaced on bass by returning long-time member Devo
– Summer is spent recording the new album
– Devo's first live performance since returning is a headlining show at the Agglutination Festival in Southern Italy
– September; listening session for selected journalists in Hamburg (Germany) and a special invite-only concert
– New album, number nine, "Plague Angel" unleashed upon mankind in late November
– Marduk headlines the annual X-Mass Festival package in Europe
– Releases a special limited tour-EP entitled "Deathmarch", also the name of the tour
2005
– Preparations to keep touring in support of the new album comes to a halt when drummer Emil breaks his arm in a fight
– The band makes a triumphant appearance at the Wacken Open Air festival
– The Deathmarch continues as Marduk is back on the road touring Europe during late August into September
– October sees the band finally arriving in Turkey for three shows
– The "Deathmarch Tour" prompts a return to South and Central America for selected shows in Mexico, Guatemala, El Salvador, Colombia, Argentina and Brazil
– To celebrate 15 years of Marduk the band releases a limited edition live album "Warschau", recorded in Poland earlier the same year
2006
– Marduk headlines the Metalboat ferry cruise between Sweden and Finland, as well as appearing at Norway's Inferno Festival
– "Imago Mortis" ("A picture of death") – once again Marduk embarks on 20 dates of European violence
– During the spring, the first four albums are re-issued
– Marduk returns to Finland for the Nummi Rock Festival and also plays other festivals in Germany and Slovakia. Touring cycle of the year finalized at the Hellflame Festival in Osnabruck, Germany.
– Massive two-disc DVD "Blood Puke Salvation" released on the October 6
– Preparations for recording the tenth studio album initiated
2007
– Enters studio during December 2006 to January 2007, replacing drummer Emil with Lars Broddesson in the process
– February return to Mexico for three festival appearances
– April sees the band touring Russia and Ukraine, date in Belarus cancelled by the Ministry of Culture
– The same month, album number ten – "Rom 5:12", is unleashed and subsequently hailed as Marduk's paramount album to date by most of the media and fans alike. The Triumph of Death continues.
– During summer the band makes selected festival appearances at Sweden Rock Festival, Metaltown and Waldrock Open Air
– In August, Marduk set foot in the southern hemisphere for the first time in a march across Australia
– September; a handful of Polish dates as warm-up for the upcoming European tour
– November and December sees Marduk conducting a crushing 30-date European tour including shows in most Western European countries and for the first time, the Baltics
2008
– The "Vanitas Tour" of 2007 and 2008 rages on as the band during January hit the Balkans for an additional 20 dates. Finally, Marduk reaches countries such as Macedonia, Serbia, Romania and Bulgaria to spread the plague.
– In early March, Marduk participates in Europe's biggest indoor metal festival – Poland's Metal Mania in Katowice
– The same month, another return to the shores of South America for shows in Brazil, Chile, Colombia, Ecuador and Venezuela
– Late April, the classic albums "Germania", "Nightwing" and "Panzer Division Marduk" are reissued with bonus material and improved artwork; three albums that had been unavailable in most parts of the world for a long time
– Summertime – Marduk marches across Europe and appears at the following festivals: Hellfest -France, Metalcamp – Slovenia, Kaltenbach – Austria, Allience Fest – Portugal and Summer Breeze – Germany
– September sees the band returning to their loyal fans in Mexico for some selected shows
– Yet another blow is delivered to Europe as Marduk in cohorts with Morbid Angel finish off 2008 with 22 dates during November and December
2009
– The band spends the early months preparing and finalizing the recording of studio album number eleven
– March – the most northern show Marduk has done so far; Trettio Minus Festival in Luleå, Sweden
– Once again, Marduk is prohibited from touring the US due to visa issues
– Summertime appearances at the following festivals: Stonehell – Italy, Lorca Rock – Spain and Brutal Assault – Czech Republic. Marduk also headlines Party San Festival in Germany, where "Panzer Division Marduk" is performed in its entirety in order to celebrate its ten year anniversary.
– Enters Endarker Studio to record the eleventh studio album, "Wormwood"
– In August, the long awaited return to the US comes to fruition. Three selected East Coast dates, marking the band's first visit in eight years.
– "Blitzkrieg Tour" in late August and mid-September, 15 shows in Poland
– September 24, "Wormwood" is let loose upon European soil, followed by its worldwide release during the beginning of October
– "Funeral Nation" European tour. 30 shows from late September until the end of October, covering the western and southern parts of Europe.
– November and December – Marduk returns to the shores of North America for a tour entitled "US Plague 2009", 26 shows covering most of the States as well as the band's first dates in Canada
2010
– "Funeral Nation Tour Part 2" starts off the year as Marduk tread across Europe focusing mainly on the Balkans as well as selected appearances in Germany, Austria, Benelux, Ireland and the UK – ending in February after 29 shows
– April, a return to Northern Sweden at the House of Metal festival as well as headlining the Inferno Festival in Norway. The band also marches south, once again returning to the loyal legions of South America – burning through Brazil and Argentina. Directly followed by a blow to the East, the crusade continues in Belarus and Russia from late April into May.
– May also sees the band in conspiracy with Deicide and Vader, a shorter tour under the moniker "Unholy Titans". The package appears at the Metalfest Open Air Festivals in Switzerland, Germany, Austria, Hungary and Czech Republic as well as some club shows in France, Italy, Slovenia and Poland; a successful fortnight raid that comes to completion in the end of May.
– July – festivals such as the Hellfest in France, With Full Force and Rockharz in Germany
– In September, Marduk embarks on a three-week tour under the banner "The Great Northern War", focusing on the northern parts of Europe and Scandinavia
– As Marduk celebrates its 20 years anniversary they participate on the "Blackest of the Black" tour in the US; 25 dates with legendary acts as Danzig and Possessed
– As 2010 runs towards its end, Marduk is the first black metal band to do a full Asian tour. The "Asian Black Death Redemption 2010" sees the band planting the banner of the wolf in China, Thailand, Singapore and Indonesia.
2011
– During the first month Marduk boards the 70 000 Tons of Metal cruise, a four day festival on the seas and largest floating festival ever. Two additional shows during the same trip, Miami in the USA and Cozumel, Mexico.
– Already in the area, Marduk descends into Central America for shows in Honduras, Guatemala and Costa Rica
– February – for the first time in many years, the Marduk Legion teams up with Mayhem and Nifleheim for a Swedish ceremony in Strömstad
– March; three new anthems are recorded for an EP set for a spring release
– Headlining show at Walpurgis Metal Days in Germany and Puntpop Festival in Belgium, as part of the spring equinox offensive
– Late May – the three-track EP "Iron Dawn" is unleashed on the same day Marduk headlines Maryland Deathfest in USA. This marks the opening of the "7 Bowls Of Wrath Tour", consisting of seven shows in seven cities in the US and Canada. The crusade comes to an end with a New York exhibition featuring highly acclaimed artist Oluremi White, displaying his works based on Marduk lyrics.
– European summer festival schedule: Getaway Rock – Sweden, Summer Breeze – Germany, Motorcultor – France, Elsrock Festival in Holland, Mes Huff Festival in Switzerland and the last edition of Hole in the Sky – Norway
– Marduk and Blooddawn Productions terminate its more than a decade long cooperation with Regain Records
– Headlines Firebox Festival in Finland
– Another northwards march – Sundsvall and Luleå in Sweden
– Blooddawn Productions and Marduk sign a long-term deal with Century Media for worldwide collaboration
– "Hatefest Tour", three weeks of darkness over Europe, takes place during December as part of the "Herbstnebel Offensive" which after more than 220 shows finalizes the touring cycle for the "Wormwood" album
– Endarker Studio is graced with a December visit, for the twelfth Marduk album
2012
– Dominum Maris Baltici – rulers of the Baltic Sea; Marduk performs on the Sweden Rock Cruise between Sweden and Finland
– April; with the impending release of the new album, Marduk plays the first show in twelve years in their hometown of Norrköping, Östergötland. This ushers in the touring cycle for the coming anthem "Serpent Sermon".
– In cooperation with Sweden Rock Magazine, the limited edition "Souls for Belial" single is released
– The music video for the song "Souls for Belial" is recorded by director Håkan Sjödin
– The "Serpent Sermon World Tour" marches east, a two-week Russian tour in May – playing as far east as the capitol of Siberia on the border to Mongolia. Belarus date cancelled by the government, again.
– "Serpent Sermon" unleashed upon mankind in late May
– Coinciding with the album release, Marduk brings the "Serpent Sermon World Tour" to North America for a month's worth of dates in Puerto Rico, USA, Canada and Mexico
– Immediately upon the return to Europe, festival dates in Switzerland, Austria, Germany, Finland and Sweden
– August sees the return to their loyal fans in Brazil for a row of dates
– A massive 42-date European campaign in which the band plows through most of Eastern, Central and Western Europe is unleashed in August
– During November, Marduk is presented with a gold reward for having sold over 10 000 copies of the "Souls for Belial" single in Sweden
– Early December – Marduk headlines the Forlorn Festival in the north of Sweden, the hallmark of the end of a year riddled with conquest
2013
– The "Serpent Sermon World Tour" continues in early January with an assault in Australia and the first Marduk appearance in New Zealand
– The following month Marduk returns for a month-long tour in the US and Canada, lasting into mid-March
– Spring and early summer festival gigs: Thronefest – Belgium, Deathkult Open Air – Germany, Dokkum – Holland, Hellfest – France, Rockmarathon – Hungary, With Full Force – Germany, Hard Rock Lager – Estonia and Metaltown – Sweden
– July and August – the war machine trudges through South America with shows in Mexico, Colombia, Peru, Chile and Brazil
– Returns to Europe and the following festivals: Brutal Assault – Czech Republic, Agglutination Festival – Italy, Summer Breeze – Germany and Metal Mean – Belgium
– September marks the end of Marduk's 14 years absence from Japan, with seven crushing shows
– "Serpent Sermon World Tour" is finalized with a slew of dates in Sweden during October. Since the release of "Serpent Sermon", Marduk has now smothered the world with over 170 shows.
– Drummer Lars forced into hiatus due to back/leg problems, F. Widigs fills in
– November, headline show at Black Flames of Blasphemy Festival in Helsinki, Finland – a celebration of the "Those of the Unlight" album which was released 20 years ago, subsequently hailed as one of the most high-profile and iconic black metal album ever
– Marduk ends the year with a storm of iron as the band tramples Europe on a 21-date tour, performing the entire "Panzer Division Marduk" album as well as "Those of the Unlight". A worthy ending to yet another year under the banner of the wolf…
2014
– Another year of subjugation primed as Marduk performs at Blastfest in Bergen, Norway
To be continued…