November 27, 2015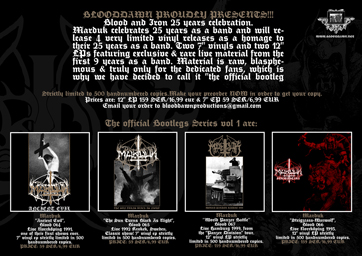 Marduk celebrates 25 years as a band, in order to celebrate this Marduk will release 4 vinyls (see flyer for more details) two 12″ LPs and two 7″ eps, strictly limited to 500 copies each. The release will coincide the band playing live at Black Christmass Festival in Norrköping on the 18-19th of December.
The vinyls will be sold there at the festival site, but in order to serve the loyal Marduk fans who might not be able to visit the festival we also accept pre-orders. Remember that these vinyls can only be purchased directly from Blooddawn Productions, so be quick and reserve your copy now!
Check the flyer for more info and mail your pre-orders to:
blooddawnproductions@gmail.com
Also make sure you visit Blooddawn Productions facebook site for news & updates!!!
https://www.facebook.com/blooddawnproductions/